About Travel & Tours Unlimited
"Do not follow where the path may lead. Go instead where there is no path and leave a trail"
~ Ralph Waldo Emerson
Travel & Tours Unlimited, founded in 1998, serves many clients in the local community as well as clients in most of the states in the U.S. and several foreign countries including Canada, England and Italy.
We have established ourselves as an area expert on Walt Disney World Resort (Florida), Disney Cruise Line, Disneyland Resort (California), and Adventures by Disney vacations, specializing in family and group vacations. We are also recognized as specialists in cruises, Sandals and Beaches resorts, and many specific travel destinations.
In November 2013, we opened a new office in the Malcolm Professional Center on Malcolm Drive in Westminster, Maryland.  Our offices are located in Suite A of the Malcolm Professional Center where we meet clients by appointment.  We also opened a Travel Planning Center in Suite B where we host travel supplier presentations and other events.
---
L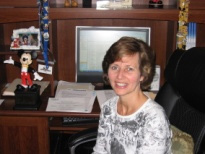 aurie Martz, President and Co-owner of Travel & Tours Unlimited, Inc., has extensive training and experience in planning magical and memorable vacations to many wonderful destinations worldwide. Laurie has had a passion for travel since she was a child, especially Disney vacations. She loves to share that passion with her clients while using her knowledge, experience, planning skills and vendor relationships to arrange special travel experiences for them.
Jerry Martz, Vice President and Co-owner of Travel & Tours Unlimited, Inc., is a CPA and spent over 30 years in private and public sector auditing and accounting. After retiring from his first career, he joined the company as a result of its rapid growth to provide accounting, marketing and administrative support. Jerry also shares a passion for travel and experiencing new destinations.
---
Authorized Disney Vacation Planner

Travel & Tours Unlimited, Inc. has been designated by Disney Destinations as an Authorized Disney Vacation Planner. This designation is extended to only the top travel agencies in the country that sell Disney vacations. These agencies receive extensive training on Disney theme parks, resorts, cruises and vacation packages, and can provide the utmost in professional assistance in planning customized Disney vacations. Travel & Tours Unlimited, Inc. regularly attends Disney's Annual Earmarked Conference, a training and familiarization conference for Authorized Disney Vacation Planners held on-site at one of the Disney properties.
In July of 2008, Laurie was also appointed as a charter member of the Disney's Travel Advisory Council. As a member of this Council, Laurie is one of twenty agency owners and managers, representing a cross section of agencies in the United States, that are in regular communication with Disney representatives to provide input and feedback on various business topics with a focus to improve the sales and marketing of Disney Destinations.
---
Master Cruise Counselor

Travel & Tours Unlimited, Inc. is a member of CLIA (Cruise Lines International Association), an organization of the major cruise lines and travel agents. CLIA administers a Cruise Counselor Certification Program which requires agents to successfully complete a number of compulsory training courses and exams, attend cruise conferences and conduct ship inspections. In March 2001, Laurie passed the requirements to become an Accredited Cruise Counselor and, since March 2003, Laurie has been recognized by CLIA as a Master Cruise Counselor.
---
Certified Sandals Specialist

Travel & Tours Unlimited, Inc. is annually recognized as a Certified Sandals Specialist (CSS) and has attained the gold level. As a CSS, travel agents receive a specified amount of required annual training on Sandals and Beaches resorts, including periodic updates on innovations, renovations and new properties. We have also been recognized as a Sandals Dive Specialist.
Training & Credentials
We believe that it is imperative to be educated and continuously updated on the travel products and vendors that we recommend to our clients. This is best accomplished by enrolling in the specialist programs provided by the travel industry and its vendors, and participating in relevant training and continuing education programs, including site visits. Travel & Tours Unlimited, Inc. has received extensive training on numerous travel industry topics over the years and, accordingly, has earned the following credentials and destination specialist designations:
Disney Travel Advisory Council
College of Disney Knowledge Graduate
CLIA Master Cruise Counselor
Certified Sandals & Beaches Resorts Specialist
Avalon Waterways Specialist
Globus and Cosmos Tour Expert
Monograms Expert
Royal Caribbean Cruise Lines Specialist
Florida Specialist
Hawaii Specialist
Universal Parks & Resorts Specialist
Aruba Certified Expert (ACE)
Bermuda Specialist
Canada Specialist
Cayman Islands Specialist
Costa Rica Specialist
Israel Destination Specialist
Panama Specialist
St. Lucia Specialist
St. Vincent & the Grenadines Specialist
---
Experience
Laurie has over 20 years of experience in sales, customer service and as a business owner. As a travel agent, Laurie has extensive experience in planning magical and memorable vacations to destinations all over the world. For example, she has literally planned thousands of Disney vacations, cruises and Sandals vacations. Laurie has planned destination weddings and also has extensive experience in planning travel for groups, a number of which she has escorted.
The philosophy of Travel & Tours Unlimited, Inc. is to only recommend travel providers and products that we have confidence in. This means that we have either experienced the product or have obtained excellent reports from a reliable, unbiased source, such as trusted travel agent affiliates. We have experienced all of Disney's resorts and theme parks, and dined at most of its restaurants, in the United States. We have also cruised on, or participated in ship inspections on, many of the ships on most of the major cruise lines and have cruised to a majority of the destinations and ports that these cruise ships visit. Furthermore, we have stayed on or visited almost all of the Sandals and Beaches properties. Finally, we have stayed at or visited most of the other resorts and vacation destinations that we recommend.
---
Why Use Travel & Tours Unlimited?
To read more about what our clients have to say about us click here

"We have so much to thank you for…You are so thoughtful & had every detail in place! You made our trip easy and carefree which was wonderful! We are excited to plan our next trip with you…
- Trevor & Sarah Stockman, Westminster, MD