Universal Orlando Resort


Get a glimpse of what Universal Orlando has to offer.  And keep in mind, we are a Universal Parks and Resorts Specialist.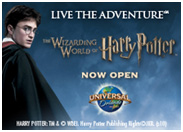 Check out the hottest new attraction at Islands of Adventure that everyone is talking about!
To find out more about Universal Parks and Resorts, or to reserve a Universal vacation, contact us at info@traveltoursunlimited.com or call us at 410-876-6123 or 800-795-5399.